Payment Options for Legal Services
Convenient Payment Options
Paying for legal assistance can be difficult. At Antonoplos & Associates Attorneys at Law, we believe that you should not have to liquidate or sell your assets to get quality legal representation immediately. Our office gives affordable rates and price options for our legal services. We offer many payment options for legal services to assist you in paying when you need our office to start on your case right away.
Attorney compensation in most legal fields is based on traditional hourly compensation and billable hours. However, flat fixed fee compensation is the industry standard for estate planning. Flat Fees offer the client assurance and predictability for the total costs of legal representation. It is often preferred by estate planning attorneys who do not want their client's decision to determine the scope of representation to be impacted by potential unforeseen issues.
If you wish to retain our services, there are various options available to pay for our assistance:
Payment of Fee In Full
Payment may be in the form of check, cash, cashier's check, money order, credit/debit card, e-check, ACH payment or wire transfer/Western Union. To obtain information about wire transfer or Western Union, please contact our office for instructions. Cash and check deposits can also be made in person at our main office location at 1725 Desales ST NW #600, Washington, DC, 20036. ACH payments may also be made online.
Credit Card
Our website provides an SSL secured page for online payments powered by *LawPay. The payment must be in the form of a credit card or debit card. You can submit payments easily from home or your mobile device. Your personal information is always secure. See our privacy policy to learn more. You can email billing@antonlegal.com if you have any questions or feel free to call our office at 202-803-5676.
We accept Master Card, Visa, and Discover. With a credit card, we could spread out your payments through the card company in whatever way makes the most sense for you. If you are interested in paying by credit card, you can visit our pay online page or call our office at 202-803-5676.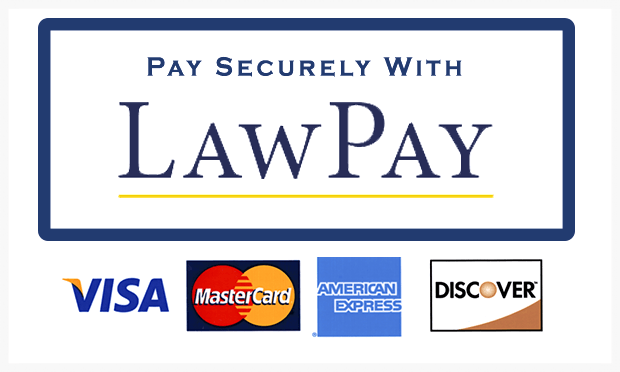 Pay securely online using Law Pay
*LawPay Credit Card Processing is the only payment solution recommended by over 60 bar associations, including the D.C. Bar Association.
Payment Plans
We have installment payment plans available for most of our legal services. Under the provisions of our installment payment plan, after you pay the initial retainer down payment amount (50% down), the balance of the fixed flat fee can be spread over a number of months and paid on a monthly basis (usually in 30 and 60 days). Payment plans are available with no credit check and are clearly outlined in the fee agreement.
If you would like more information on Antonoplos & Associates and how you can pay for your legal fees, call 202-803-5676.