Antonoplos & Associates New Office Location
Legal Article
Antonoplos & Associates New Office Location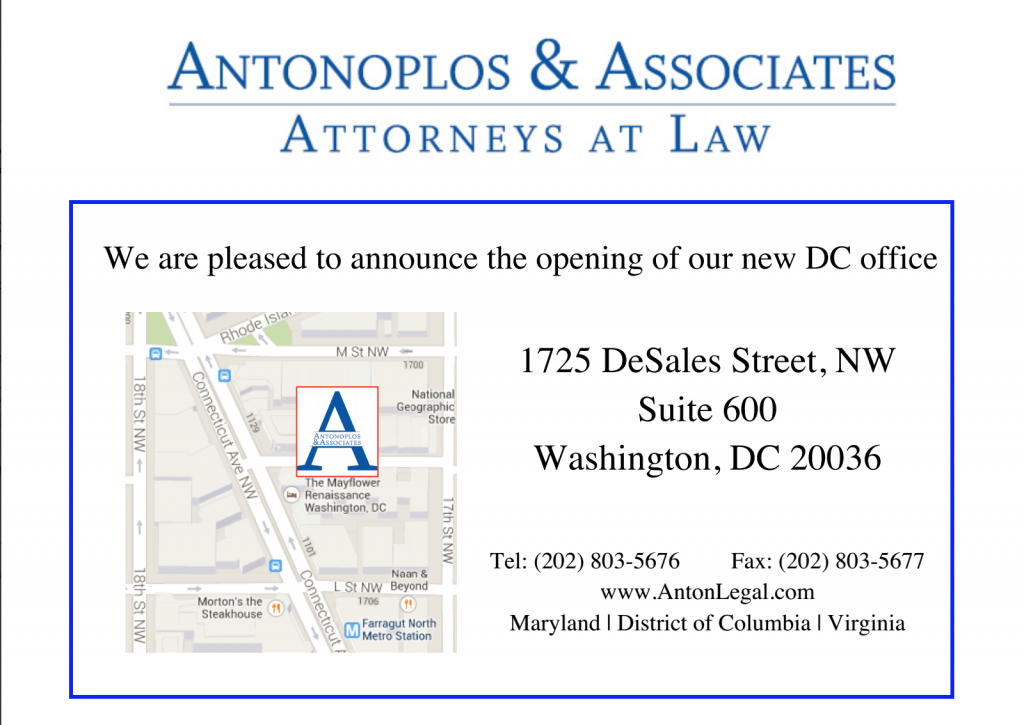 Antonoplos & Associates New Office Location places our attorneys close to the heart of D.C. This new location places our skilled and knowledgable attorneys closer to both our clients and the courts and lets us approach the complex legal needs of our clients from a results-driven perspective. Our clients demand top-rated legal representation on their important business and personal legal matters. Whether your legal needs are focused on inheritance, estate planning, and probate, real estate, or business litigation, our team of experienced attorneys stands ready to assist you.
Our attorneys are recognized for their award-winning representation of clients in matters involving Wills & Trusts, Real Estate Litigation, Probate, Trust Administration, Construction Litigation, and Business & Corporate Law.

We respond by consistently delivering our clients the highest quality legal services and cost-effective solutions they demand. Our firm has a stellar reputation for representing clients with their comprehensive estate plans including creating wills & trusts as well as asset protection plans. In addition, our business law and real estate attorneys have over three decades of experience representing clients in the Washington, D.C. area in real estate and business law litigation and work side by side with our clients. From your first visit to Antonoplos & Associates, you will see that we stand apart from other law firms you may be considering. Our legal team is some of the most experienced attorneys, paralegals, and support staff in Washington, DC, and they will be the first to let you know that they are proud to be part of a special kind of law firm because they work tirelessly to make us the best.

If you need the best Probate Lawyer, Estate Planning Lawyer, Real Estate Lawyer, Business Lawyer, and Trust Attorney, turn to the law firm people in Washington, D.C. turn to for guidance on their important legal matters. For more information or to schedule a complimentary consultation please feel free to contact our office directly (202)-803-5676.